Nonviolent Communication (NVC) for Getting and Giving Respect: For Parents and Children
[
In My Heartfelt Letter to Family, written a year ago before this website and my Nonviolent Communication (NVC) services and NVC community and support even existed, I talked about not forcing children to say sorry and setting limits respectfully. I also mentioned a bit about not wanting "pretty" to be a main concern for my daughter. I have shared the letter with most of my family and talked about the concepts with all.
]
We all continue to talk about feelings and needs. In fact, I wrote this post a few months ago on Talking with Young Children about Feelings: Encouraging Self Advocacy. Lately we have spoken regularly about when people want different things and making a space for conversation around needs and solutions.
Our work together seems to be transforming both of us in wonderful ways.
A few months ago, my 3 yo came separately to me and my partner and said she didn't like her hair up and she didn't want to wear it up anymore. It turned out, from her words, that she didn't feel comfortable asking for her grandparents to stop, so she was asking us for help. We suggested we facilitate a conversation between her and her grandparents. Some time passed and she brought it up again. web archive . In the meantime, we have clarified that sometimes she wants her hair up and sometimes she doesn't. She said her grandparents feel happy when they put her hair up, and she likes them happy but she doesn't want her hair up.
Well, after conversations with grandparents and my daughter separately, we finally had a direct conversation before a sleepover she came to ask about:
My partner recalled our need to talk and said, "Remember you and I were talking about how you wanted to talk about putting your hair up?"
I worried and wondered if she would feel scared or overwhelmed and look down and mumble, and if it would seem like I put her up to this.
Instead, my girl, who seems so little sometimes and so big others looked up confidently said clearly,
"I want you to respect my space. If I don't want my hair up I don't have to. I want you to respect my needs."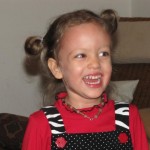 There was some distraction with other things, and I wanted to give her a chance to clarify and say her needs again: "How will she know what your needs are? Remember how you said sometimes you want it up and sometimes you don't want it up? How can you tell her what your needs are?"
"My need is when I don't want to put my hair up, I don't have to."

"Are you willing to tell her when you want your hair up and when you don't want your hair up?"

"Yes."

"That will help her respect your space because she will know what you are needing."
I'm not sure from the response what the full reception was. I do think her grandmother respected her expression of needs. We will see how things continue from here.
I felt relieved and proud to see the confidence in my daughter's face and voice. I felt comforted by her incorporation of some key words and concepts I have been working to nurture and nourish in my family. I felt empowered hearing her express herself, and inspired that I might hold a space for my daughter to feel empowered to tell me or anyone what she needs.
To think that with all my mistakes and things I wish I had done differently, I might succeed in raising a resilient, respected and compassionate human being…..well, that has me feeling over the moon and more connected and at ease than ever with my daughter.
Since we had finished what we needed to say, I reminded her of the sleepover plan:
"I noticed you sat down, but you are leaving now for your sleepover."

"I wanted to sit down and talk about it."
And off she went without me…my baby girl.
Self-advocacy and self-empowerment in my children: Best Mother's Day Gift Ever!
May every day be a Happy Mother's Day to all the mamas, all over the world….
****
RESOURCES: