A Living Family
Holistic Support for the Whole Family
When I was a child, my parents would tell me stories of their childhoods growing up in India.
Living communally, in a compound with extended families, the children grew and played together while the adults shared together in the joys and tasks of daily life. Even as a child, I understood the power of community to enrich the life of the individual. sub domains I gather that it was a difficult time, making life happen with the resources available, but I also heard that it was easier and more enjoyable to have the community support.
As a new mother and then a new mother of two, with extended family far-flung, I felt keenly drawn towards finding a community, finding my "family."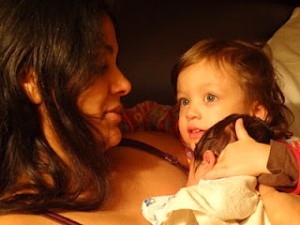 I found a deep need to connect with other families, particularly those making some of the choices I was making and living off the beaten path, so to speak. What if I could create my own family, one that was focused on making a life rather than making it?
My thoughts and feelings turned to action, and A Living Family was born.
Through my work with schools and education, I understand on an intellectual level that the way we expect to grow, learn, live and relate in the United States is not the only way. From my experience as a teacher, I had the rare opportunity to design from scratch and teach a middle school curricular program that fully explored a more child-directed, integrated approach to learning as well as a focus on culture, community and identity. More recently, I wrote a curriculum guide for a documentary film on forgiveness, reconciliation and community building in post-Civil War Sierra Leone to help school communities find ways to be more compassionate, safer places to learn and live.
More and more families today are drawing on ancient, and faraway, wisdom of community, family and culture to parent and live. Some societies emphasize the individual's identity, speedy progress, concrete results, and earliest convenience. Other cultures highly value time spent building interconnected communities, encouraging children to play at their own work in their own time, puzzling through complex concepts cooperatively, and supporting healthy attachment from the earliest moments. I find most modern families fall all along a spectrum as we find our way through all the messages from history of peoples past.
The services, resources and community provided by A Living Family benefit the whole family and meet a wide range of needs for modern day living.
Some of the people I seek to serve through A Living Family are:
Infants and toddlers through teens and adults who are growing and learning
Parents who want their home and relationships to feel joyful, connected, vibrant and supportive
Mothers and fathers who are expecting a child or who have had one or more birth experiences
Individuals who want to make a change or whose lives are changing
Anyone who wants to live a simpler, healthier, more mindful or more purposeful life
Through A Living Family community and services, both online and local to the greater Philadelphia area, I hope to create space for shared story, inquiry and wisdom; inspire creativity and deepen understanding; find solutions to everyday problems and find ways to facilitate joyful, conscious living. I hope you and your whole family can get your needs met and thrive with all you find in A Living Family.
I want to say "Welcome," to Your Living Family. 
*****
Read More:
Parent Peacefully
Live Naturally