Parenting Theory vs. Parenting Reality: The Myth of the Responsible Parent
Welcome to the June 2013 Carnival of Natural Parenting:
Parenting in Theory vs. in Reality
This post was written for inclusion in the monthly Carnival of Natural Parenting hosted by Code Name: Mama and Hobo Mama. This month our participants are sharing how their ideas and methods of parenting have changed.
***
Whether it's "little" things in the day to day or bigger questions such as vaccines or carseats, we all feel a little tug of doubt at some point or another: Am I being a responsible parent?
I can't and don't wish to tell you what matters to you. What I'm here to talk about is the myth I see plaguing almost every family I see when I'm out and about. In fact, I'd say it comes pretty darn close to being a universal stumbling block for all of us parents at some time (or perhaps forever for some of us).
Why the Myth of the Responsible Parent?
I know I held this faulty belief because people, myself included, talk and behave as if the myth is fact. Much of commonly shared parenting "theory" leads to judgment of our ability to uphold our responsibility in this area. Many of us "fail" time and time again. Yet, many of our own parents and the generations following continue to plod ahead down this bramble-filled path, passing down the weight of this myth.
May the truth, here and now, set you free…
PARENTING MYTH

BUSTED

: You are
not

responsible for your child's (or your partner's) feelings.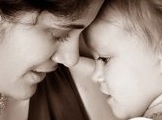 Here are some underlying beliefs that hide away in our heads, sometimes until the screaming and whining starts:
I am responsible for my child/partner's feelings.
I am responsible for my child's/partner's behavior.
I am responsible for who my child's/partner's is.
I show this belief when my anger disconnects me from my crying, whining, upset child after I have respectfully set a limit. ("I did everything 'right' and 'everything she asked' ")
I show this belief when I say (even in my head) "You make me/your little brother…" (angry, happy, disappointed, hurt, sad)
I show this belief when I say (or hold in my heart) "I have to … because you …"
That kind of talk and thinking does not get me the

connection

and

cooperation

I am looking for in my relationships and in my family.
I end up feeling frustrated and scared because I need some security. When I connect my life, my work, my "good enough"-ness on how others feel, I feel lost. What I seek is some kind of way to contribute to that which I and my family need more than anything: love.
In truth: My child's/partner's feelings, actions, or words  do not mean I have to do anything.
Yes, I feel frustrated, agitated, sad, angry. Still, I have the choice in those moments to take responsibility for my own feelings and needs. It is important for me to rewrite my parenting theory and use the words to express the reality I wish to create.
Parenting Reality: I am responsible for my own feelings, needs and actions. No one else's.
I am responsible for moving through my anger, fear and sadness to clarity, calm and connection. Yes, my responsibility, as I see it for my family, is to nurture connection — to myself and my children — in order to create a nourishing environment in which peace, joy and love can sprout. This path is not instinctual for me. I carve it out consciously and with care. It is, in fact, out of a deep love for my children and a deep need to connect with my partner that I work to integrate Nonviolent Communication (NVC) into my self talk and into my family.
The parenting myth that other people's feelings, especially those of our children, somehow obligate us or are a reflection of us is a weighty burden of belief that has crushed many an opportunity for connection.
I wonder: Where do you feel you might free yourself from responsibility for others? How might this release from responsibility of things you cannot control free you to nurture connection and sprout peace in your relationships and in your family?
***

Visit Code Name: Mama and Hobo Mama to find out how you can participate in the next Carnival of Natural Parenting!
Please take time to read the submissions by the other carnival participants (posts will be live and updated no later than afternoon on June 11):