Leaving a Legacy of Mindful Communication
I was in the car with my 5 yo having a conversation when I realized how much my children are growing and shifting, and me too…
Soon after my daughter turned 4, she had a huge developmental social emotional leap within a few days to a week.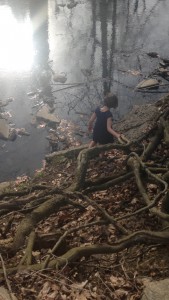 Suddenly, she would stop her hand going to hit her brother or the flow of words out of her mouth. She could stop and choose more readily. (Amazing to watch this almost overnight transformation!) She began to be able to share more clearly about what she was feeling. I'd been using and sharing Nonviolent Communication (NVC) with her since she was 2, so she had a fairly wide range of feeling words.)
I regularly share my own feelings with her, again using NVC, and we had talked frequently about her feelings when I say certain things or speak more loudly or go away. (Withdrawing love is a major piece of my programming, and has been a painful and challenging one for me to work through as a parent.)
Because of our open conversations about feelings and her growing ability to trust and understand herself, my then 4 yo and I have been able to move into deeper levels of mutual trust and understanding. She began to share her deeper, darker feelings and thoughts with me, at times in a timid turned away voice and at times bold and blunt.
Going to bed one night (because so much becomes illuminated in the darkness, yes?), my daughter said, "When you get angry, I worry that you don't love me."
My heart dropped with an emotionally heavy thud. One of my worst parenting nightmares. My daughter, feeling unloved…
I worked to validate her observation, feeling, implied need, and silent request without bringing in a potential spiral of grief, shame, blame and guilt. I worked to use my tools of NVC, Hand in Hand Parenting, Mindful Self-Care along with the insightful research of Brene Brown and other wisdom I've gathered along my journey. (All the tools, techniques and tips from my Mindful Communication Series!)
This week, conversations later and a number of months after her fifth birthday, I posted on my Facebook page about the following conversation with my now 5 yo: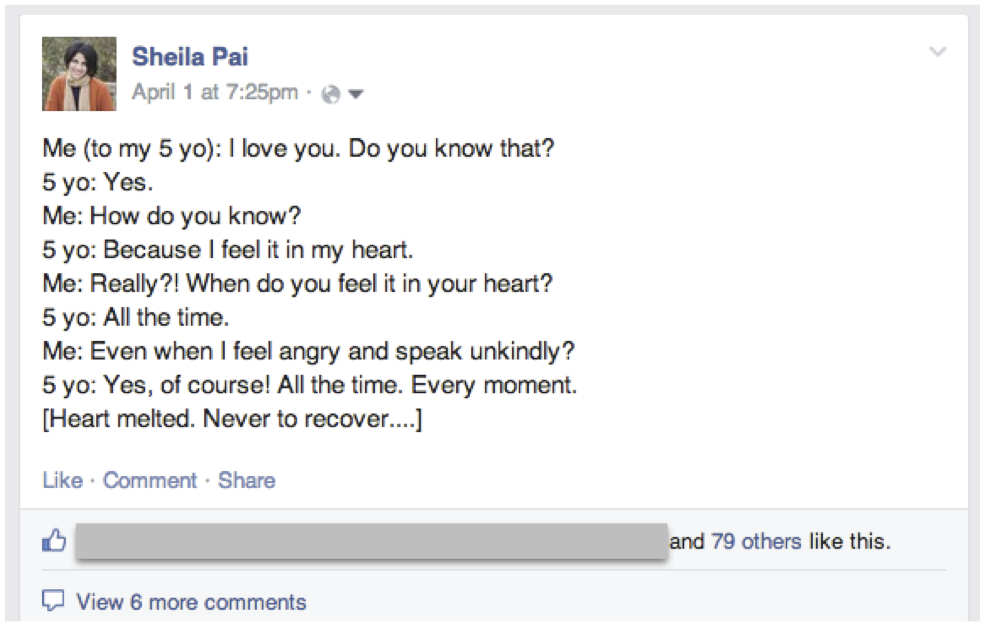 As children, our experiences become programming that emerges as parents. I was spanked, punished, compared and criticized as a child. My understanding and compassion for my mother have evolved through my years as an adult and a mother myself. My own mother made her own generational leap in terms of presence and nurturing from the place she was at, which was certainly beyond my own experience. I want so much to give my daughter a generational leap in programming towards connection, peace, trust, ease, joy…being…thriving…
When my daughter shares words like the ones above with me, I feel clear and affirmed in my focus to mindfully align my communication with my values. My 5 yo is a fierce teacher of mine. I value her connection so deeply. I am so grateful she shares with me and feels safe enough to share. I will be ever grateful for the tools and techniques I have cultivated over the last two decades.
I continue to work to leave a legacy of communication, mindfulness, and self-care in the minds, hearts and spirits of my children.
[Read more about the tools, techniques and tips in the Mindful Communication Series.]