4 Steps to Encourage Sibling Revelry, even in Hot Moments of Rivalry
Welcome to the August 2013 Carnival of Natural Parenting: Sibling Revelry
This post was written for inclusion in the monthly Carnival of Natural Parenting hosted by Code Name: Mama and Hobo Mama. This month our participants have written about siblings – their own, their hopes for their kids, and more. Please read to the end to find a list of links to the other carnival participants.
***
When the kids are screaming, pulling hair, hitting and otherwise getting on each other's nerves….
What's a parent of siblings to do to encourage love and compassion, good will and giving, kindness and care?
Many of us hold secret (or not so secret) hope that our children will love and cherish their siblings. Every time we see our children engaged in conflict we may want to jump in to stave off the tide of rivalry and teach them how to love each other.
Other times we might settle for stopping the hair-pulling or the pushing, but either way we don't always know what to do to make our dreams of sibling revelry into sibling reality. Sometimes what we do seems to make things worse.
What I can do:
Step Back.
Observe.
Acknowledge.
Focus on What I DO Want.
STEP 1: Step Back.
You know what it's like, too, when you've got another parent watching to see how you are going to "get your child in line" or if you're going to "let them get away with it." Yes, pressure to perform as a parent comes from our own hopes and wishes as well.
As parents who care to raise respectful, considerate and compassionate human beings, we might feel tremendous pressure in the heat of the moment to do something.
This is the moment to STOP. Stop talking. Stop doing. Stay out of it.
Step back and get some perspective. From this place (or to yourself later in a calmer moment), you might see that this conflict is an opportunity for your children to learn — not to learn how to love their sibling but how to treat another human being, how to play with others, how to navigate difficult situations with anyone.
With that added space and perspective, you will be in a better place to make an actual choice about how you fluidly respond to each unique moment, rather than responding out of desperation or automation.
STEP 2: Observe.
Once you STOP. Give yourself and the situation even just 15 seconds of observation.
What are you seeing? Hearing? What is going on?
We often jump in with a bag full of assumptions that weighs us down when we want the truth to rise to the surface. Giving ourselves time to notice keeps us from getting involved in a power struggle or debate about details.
STEP 3: Acknowledge.
When we do speak what we can start with is our concrete and specific observations.
"You are crying. Your head hurts where she hit you. You wanted to play with the blocks."
"You are feeling frustrated. You wanted to build a tower with blocks. When he came and knocked your tower over you felt angry."
"You aren't finished with your turn."
"You really want to have a turn right now."
"When I see you hitting each other I worry you will get hurt. I need to keep you both safe."
These don't have to be perfect. The main point is that I go from swooping in and problem finding and fixing things to helping them to make observations and take in what is actually happening. By slowing things down for everyone, you make time to hear and acknowledge everyone, including yourself and the situation.
STEP 4: Focus on What I DO Want.
When we go to actually teach our children to move them towards sibling revelry, we often say and do things the encourage rivalry. We tell kids: You can't. Stop. Don't. No. I won't let you.
The shift here is towards telling what I do want. This means being clear about what sibling revelry looks like.
"Treat each other gently."
"Stay safe."
"Check in to see if that's a game he wants to play."
"You may ask if you can have a turn when she's all finished."
Sometimes it means I give some language that we do want my kids to use.
"She's not finished with her turn."
"Ouch! Hitting hurts!"
"I don't feel safe."
By focusing on what we want and giving our children space to practice tools, we encourage them to solve their own conflicts respectfully instead of relying on us for each and every conflict. We can show them that we trust them to do this by saying things like "I trust you can find a solution together that works for both of you" or "I am confident you know how to use your words to share how you are feeling, tell each other what you need and find a solution."
Using these steps, I feel empowered to encourage a natural, unforced revelry between siblings, an appreciation and consideration of each other that reflects the way I wish my children to treat any other person.
For instance, yesterday my 3.5 yo, extremely travel weary (as was I) from long plane rides and a 3:30 am wake up (and for me a 1 am "sleep" time that included nursing my 19 mo):
My daughter: [Grabbed the monitor I was using to make sure my son slept through the roaring cars, honking, dogs barking, and people walking by talking loudly 6 ft from him. Ran away when I went to take it from her. Looks at me.]
Me: [I was fried and needed him to go to sleep for the night. However, I was now feeling fed and hydrated and a bit more comfortable and knowing relief and rest was on the way for us all.] You know, I realize that I just went to grab that from you just now. I am feeling worried because I really really really really really (yes, I said that many) need your brother to sleep because we've all not slept well for a long time now. I worry because our bodies, when we don't sleep, can get sick more easily, and I really want him well. So when you took that I felt scared that…
My daughter: [Getting up] I'll take it and put it back on the table.
WOW. No Problem = No Problem.
And that felt WAY GOOD after the intensity of the day, to go to bed with the connection and love and joy from that acknowledgment, consideration and respect.
Indeed, my deepest hope is that by using the opportunities we have (daily, frequently) to learn about how to respect ourselves and each other that I am helping my children learn how to honor the life in all things. I do wish for my children to love each other, to like each other, to find friendship and support in one another. I do not want to push my expectations and hopes onto them or force them through my language and actions into roles, rules or regulation from the outside.
My main goal is to nurture the natural compassion and connection in my children as human beings, and in this way encourage the sibling revelry we all wish for our children.
********
RELATED CONTENT:
SAVE THE DATE!
Solutions for Sharing or Siblings: Community Call (FREE) — March 11, 2014 @ 8 pm EST 

Online NVC Basics workshop (FREE) — April 3, 2014 @ 7:30 pm EST 

Next NVC Series for Relationships and Parenting starts May 1, 2014!
Sign up for my Nonviolent Communication (NVC) Community email list and get updates about the free calls, free workshops and upcoming NVC Series for Relationships and Parenting.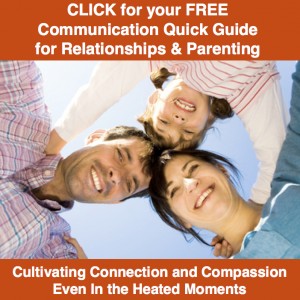 ***

Visit Code Name: Mama and Hobo Mama to find out how you can participate in the next Carnival of Natural Parenting!
Please take time to read the submissions by the other carnival participants: